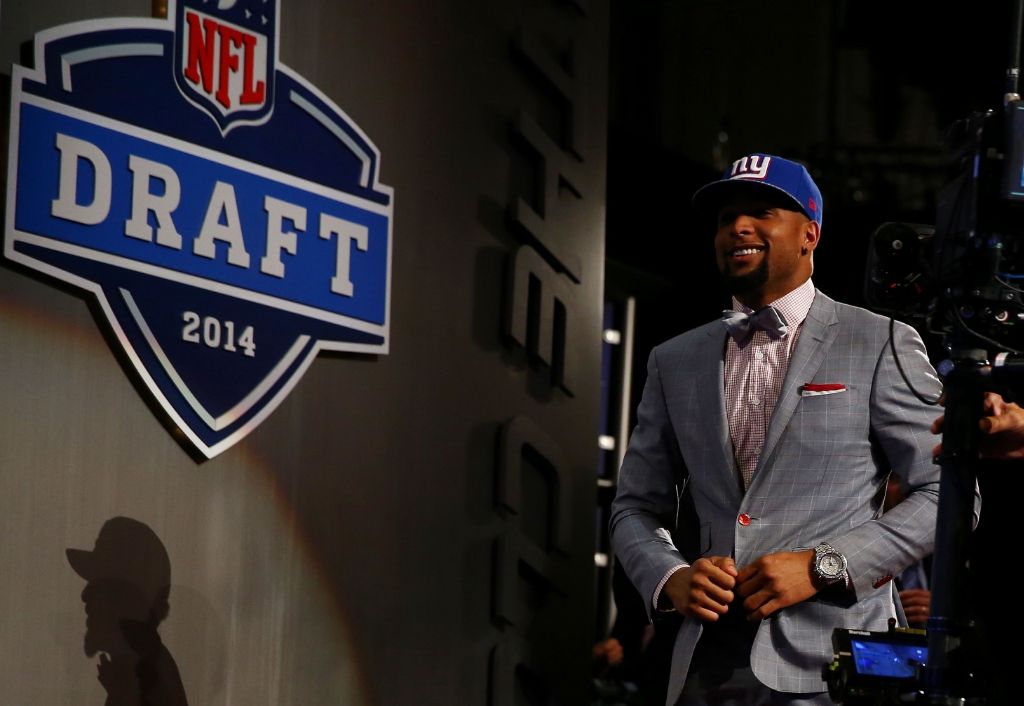 news /
09.24.2014
WR Odell Beckham Jr. Returns to Practice
EAST RUTHERFORD, N.J. – Jon Beason and Odell Beckham Jr. each practiced on a limited basis today, which could be good news for the Giants both short and long-term.
Beason missed the victory over Houston on Sunday with foot and toe injuries, so his presence at practice would seem to indicate he has a chance to play Thursday night in Washington.
"We look at him every morning and see how he feels and so on and so forth," coach Tom Coughlin said. "He did okay today, and we'll see what it's like tomorrow."
Beckham, the first-round draft choice who has yet to play this season because of a hamstring injury, participated in some practice drills for the first time since Aug. 18. Since that time, he has been working on the side with the Giants' athletic trainers.
"He practiced, did some individual," Coughlin said. "It wasn't the most extensive of individuals, but he did that. His load is to increase as he goes along now." 
"It was nice to see him out there," offensive coordinator Ben McAdoo said. "Put his foot in the ground a couple times, it's good to see 13 out there."
Asked about Beckham's potential availability for the Washington game, Coughlin said, "I think it's in the future."
"It's not really up to me; it's up to the training staff and coaches," Beckham said of when he will play. "I feel good, but that's not my decision or my call. They do the best job at protecting us. Right now, I'm just playing it by ear and waiting to see." 
 
Assuming he doesn't play Thursday, Beckham's next opportunity to make his NFL debut will be at home against Atlanta on Oct. 5.

"I definitely feel a lot better, a lot better than I had been," Beckham said. "I feel as good as I've ever felt right now.

"(I'm) just trying to stick with what we're doing. Whatever they have me doing, I just do it to the best of my ability. I feel a lot better than I have been feeling."
That was evident to Eli Manning, who attended the same New Orleans high school as Beckham and has been throwing passes to the receiver for years.

"Odell looked good," Manning said. "He's definitely got some quickness to him and some burst, so it's good to see him running. We'll just kind of keep sprinkling him in and get him up to speed on everything, get him out there and see how much he knows of the offense. You think he does, but you start doing signals, doing things, so we'll see when he can get back and help us play a game. "

Beckham missed most of training camp and all five preseason games with a strained hamstring. The speedster from LSU said "it's been driving me crazy" to miss so much time, but he knows to rush back could result in a setback. Beckham did not consider today's practice participation a hurdle he had to clear.

"I kind of felt like the hurdles were earlier on in the rehab," he said. "I feel like we're starting to hit that home stretch. Just staying mentally strong and praying that nothing bad happens again."

He's not alone. 
Source
By Michael Eisen Senior Writer/Editor 
http://www.giants.com/news-and-blogs/article-1/WR-Odell-Beckham-Jr-returns-to-practice/e68d75d5-bfe9-4525-9719-ca8d75303365